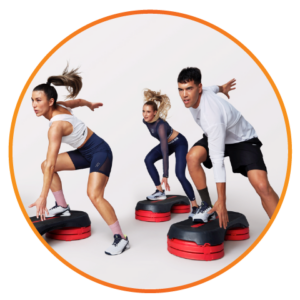 Mason Community Center offers a variety of opportunities to get connected to fitness and health.
The Community Center offers group exercise classes daily. The drop-in group exercise schedule is available online. Drop-in group exercise classes are included with Premier membership.
Drop-in group exercise fees per class:
Premier Members: Free
Basic/Silver Sneaker Members: $3
Healthy Lifestyle Members: $5
Social Members: $7
Non-Members: $21
The Center offers equipment orientations, personal training, InBody scans, and nutrition consultations. Personal trainers will assess your current fitness level and coach you through an affective and safe program tailored to fit your needs. Visit the Membership Services Desk to set up an appointment time for these services or complete the online fitness form and email the Community Center fitness staff.
As a Premier member, you receive four free fitness assessments, one free nutrition assessment, and one free yoga assessment.
Mason Community Center embraces a Culture of Wellness and is proud to be named the 4th Best Place to Live for Families  in the United States by Fortune Well. Learn more about the current month's health initiative online.