From Palmyra to Mason, the city has a rich history.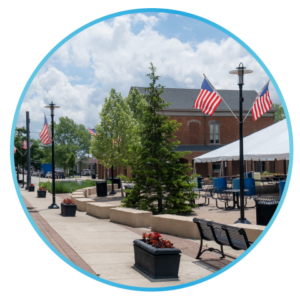 On June 1, 1803, Revolutionary War veteran William Mason paid $1,700 at auction to purchase 640 acres of land in what is now downtown Mason. In 1815, he platted 16 lots on this land and named the village "Palmira." In 1832, two years after the death of William Mason and according to his will, over 40 more lots were platted on the north, south, and west of Palmira. When the plat was officially recorded, the name of the village was listed as "Palmyra."
In 1835, a petition was sent to the federal post office to correct the name of the town. It had been listed as Kirkwood, possibly an error because the postmaster at the time was William Kirkwood. When village officials were informed that there was another Palmyra in Ohio, the name was officially changed to "Mason." Mason remained a small farming community for another 125 years. In 1970, there were fewer than 5,700 residents. (Historical information from Around Mason, Ohio: A Story, by Rose Marie Springman.)
Voters approved a governing charter in 1969, and the City of Mason became incorporated in 1971. Today, the City of Mason covers about 18 square miles and is home to over 30,000 people and approximately 500 businesses.
The City of Mason continues to draw upon its history as it eagerly anticipates the future. It is increasingly being recognized as a rapidly growing, progressive community with an attractive industrial base. Known as a business-friendly community, it stands ready to work with developers and business owners to create a carefully planned and attractive community that serves both residents and businesses. The number of new businesses regularly looking to locate in Mason and the expansion of existing enterprises confirms Mason's success. Cintas Corporation, Mitsubishi, Procter & Gamble's Mason Business Center, Luxottica Retail, AssureRx, and Intelligrated are among the premier companies located in Mason.
Mason is also recognized as the resort area of southwest Ohio. Kings Island Amusement Park, Great Wolf Lodge and Conference Center, and The Grizzly Golf and Social Lodge are among the prominent recreation destinations in Mason. Mason is home to the world-recognized Western & Southern Open as well as several well-loved local annual events. The Alverta Green Museum, operated by the Mason Historical Society, keeps the city in touch with its historical roots.
Mason has preserved its small town charm, but maintains a high level of municipal services and a prestigious corporate community. Over $50 million in utility and infrastructure projects have prepared the city for the ongoing growth.
A combination of fortunate location, far-sighted city leadership, innovative management, outstanding schools, successful corporations, and a close-knit traditional community have succeeded in building a progressive, polished city with a comfortable hometown feel. Mason's community theme campaign, "more than you imagine," embodies this outlook by capturing the essence of a city that continues to reflect on the past while creating the future.